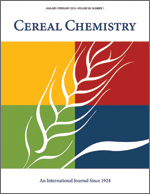 Cereal Chem 41:73 - 79. | VIEW ARTICLE

Measurement of Starch Gelatinization by Enzyme Susceptibility.

J. W. Sullivan and J. A. Johnson. Copyright 1964 by the American Association of Cereal Chemists, Inc.

Gelatinization of starch in water occurs over a range of temperatures that vary with different starches. The susceptibility to beta-amylolysis of starches heated to various temperatures was compared with the loss of birefringence. A close relationship between increase in susceptibility of the starch to beta-amylolysis and the loss of birefringence was observed. The mean gelatinization temperature of starches can be defined by loss of 50% birefringence or by the production of 5 mg. of maltose during 3 hr. of beta-amylolysis. Beta- amylolysis may be used to measure the degree of gelatinization of starches in certain systems where measurement by loss of birefringence is difficult or uncertain.