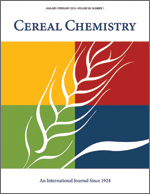 Cereal Chem 41:328 - 339. | VIEW ARTICLE

Denaturation of Soybean Globulins by Aqueous Isopropanol.

W. J. Wolf, D. A. Sly, and G. E. Babcock. Copyright 1964 by the American Association of Cereal Chemists, Inc.

Soybean globulins were treated with aqueous isopropanol, dried, and dialyzed against buffer at pH 7.6, ionic strength 0.5, containing 0.01M mercaptoethanol. Insolubility of the proteins in the buffer was used as a criterion of denaturation. Effects of isopropanol concentration, time, and temperature of isopropanol treatment on solubility of the proteins in buffer were studied. Ultracentrifugal and chromatographic analyses of the proteins soluble in buffer showed the 7S, 11S, and 15S components to be denatured by isopropanol at 25 C., whereas the 2S component was undenatured. Maximum denaturation in 2 hr. at 25 C. occurred with 40% isopropanol, and the 7S component showed the greatest susceptibility to denaturation. Increasing temperature of the alcohol treatment to 50 or 75 C. increased the rate of denaturation and also caused the 2S fraction to be denatured, although at a slower rate than the other three fractions.