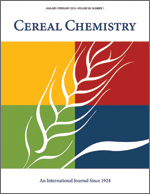 Cereal Chem 41:351 - 364. | VIEW ARTICLE

Chemical Investigation of Wheat. IV. Dynamics of Various Forms of Phosphorus in Wheat During Its Ontogenesis.

M. L. Mihailovic, M. Antic, and D. Hadzijev. Copyright 1964 by the American Association of Cereal Chemists, Inc.

The content of phosphorus in desoxyribonucleic acid and ribonucleic acid and the resulting ration of the two acids in the gluten of various low-yielding and high-yielding wheat varieties has been investigated. From the results obtained it was concluded that the assumption of Bourdet and Herard about a possible correlation between the content of nucleic acids in wheat flour and the biological and technological properties of a wheat variety is not justified for, nor applicable to, wheat samples cultivated under ordinary crop production (uncontrolled climatic conditions, undefined soil characteristics, variable agrotechnical measures, etc.). Moreover, it was demonstrated that the content of ribonucleic acid in wheat grain depended not only on the variety, but also on applied agrotechnical measures, i.e., on the use of nitrogen, phosphorus, and potassium fertilizers, and that, therefore, the ratio of nucleic acids in the grain could not be specific for a wheat variety, since it is not constant. At the same time, the observed variations in the accumulation of ribonucleic acid in wheat grain have confirmed that the biosyntheses of ribonucleic acid and proteins in the grain are, at least partly, coupled.