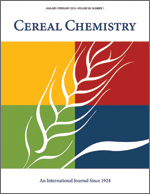 Cereal Chem 41:386 - 398. | VIEW ARTICLE

Preparation and Properties of Acid-Modified Cereal Flours.

J. C. Rankin, J. H. Samalik, M. M. Holzapfel, C. R. Russell, and C. E. Rist. Copyright 1964 by the American Association of Cereal Chemists, Inc.

Cereal flours were partially depolymerized by a dry-state method to give products having paste viscosities suitable for a number of industrial sizing and adhesive applications. Dry flours were treated with small amounts of dilute hydrochloric acid followed by neutralization with aqueous base. The effect of reaction times of 6 min. to 48 hr. at temperatures of 25-45 C. was investigated. Flours treated with amounts of dilute acid equivalent to 0.80-2.40 weight-percent hydrogen chloride on a dry-flour basis were converted in 1-8 hr. at 28-37 C. to products with suitable viscosities for tub-sizing of paper. These products contained less than 3% reducing sugar, had high apparent amylose content, and in laboratory-scale sizing applications imparted high-strength increases to paper. Additional improvements in the flow and dispersion properties of flour were achieved by hydroxyethylation of flour in the dry state before or after acid modification. Acid modification alone and in combination with hydroxyethylation significantly improved the aqueous despersibility of the starch and protein components of flour. In this respect the modified flours were similar to comparably modified starches. However, paste viscosity properties of the modified flours were more like those of hypochlorite-oxidized starches. Storage of modified flours over a 3-month period had little effect on their paste viscosity properties.