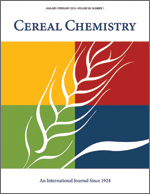 Cereal Chem 41:431 - 442. | VIEW ARTICLE

Dough-Improving Effect of Some Aliphatic Hydrocarbons. II. Studies of Dough Lipids.

J. G. Ponte, Jr., S. T. Titcomb, J. Cerning, and R. H. Cotton. Copyright 1964 by the American Association of Cereal Chemists, Inc.

Studies of possible relationships between the lipid system of dough and the improving effect of small amounts of hexane or heptane were conducted. Added fat was essential for the improving effect of the solvents to be manifested in dough; the addition of solvent in the absence of added fat led to deterioration of bread quality. The use of lipid-extracted flour for dough-making in conjunction with added solvent, but no added fat, led to complete inability of the dough to proof to height. Inclusion of hexane in simple unyeasted doughs resulted in increased "binding" of lipid, phosphorus, and protein. Linoleic acid appeared to be preferentially bound when hexane was added to dough.