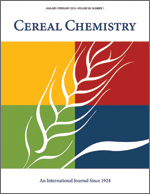 Cereal Chem 41:443 - 455. | VIEW ARTICLE

Properties of Wheat Flour Proteinases.

C. E. McDonald and L. L. Chen. Copyright 1964 by the American Association of Cereal Chemists, Inc.

Much of the proteolytically active material in wheat flours is extracted by water adjusted to pH 8 or by acetate buffer at pH 3.8. The activity optimum on hemoglobin substrate is pH 3.8 for extracted enzyme. Unextracted proteinase has an activity optimum at pH 4.4. This insoluble material was not extractable in active form by acetate buffers (0.1-0.4M, pH 4.6, or 0.1M, pH 3.8), 0.2M NaCl at pH 7.5, borate-acetate buffer (pH 8.2), or 10% sodium chloride (pH 5.8). Self-digestion of flour showed a pH 4.0 optimum, with activity much lower than that observed with hemoglobin as substrate. Both dough-mixing and the presence of sodium chloride substantially reduced the proteolytic activity of flour. Experiments with sulfhydryl- blocking reagents indicate that papainase-type enzymes account for only part of the proteolytic activity of flour. Several trypsin or chymotrypsin inhibitors were ineffective against the flour proteinases.