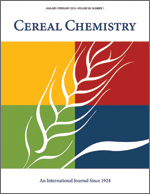 Cereal Chem 41:456 - 464. | VIEW ARTICLE

Significance of Wedge Protein of Rye Flour for Dough Properties.

F. Vones, V. Podrazky, J. Simova, and Z. Vesely. Copyright 1964 by the American Association of Cereal Chemists, Inc.

Wedge protein of rye flour influences the mechanical properties of dough, especially its coherence. It is significant for the water-absorption of flour. Its presence is indispensable for formation of normal rye dough. The significance for dough properties probably lies in an interaction between protein fractions and soluble high-molecular gums. The possibility of formation of complexes between rye proteins and gums was evidenced by determination of the intrinsic viscosity of the solutions of model mixture of rye gluten and rye gums.