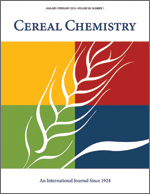 Cereal Chem 41:484 - 490. | VIEW ARTICLE

Modification of Cereal Flours with Hydrochloric Acid.

E. B. Lancaster, K. J. Moulton, D. Uhl, and V. E. Sohns. Copyright 1964 by the American Association of Cereal Chemists, Inc.

A soft white winter flour predried to less than 3% moisture was modified with 1.3 to 1.6% hydrochloric acid applied as a 4N solution at 90, 100, and 110 F. Each 10 F. increase in temperature doubled the rate at which voscosity decreased, as measured by a rapid-cooking viscometer. The difference in acid content had little effect. When flour was modified with 0.5% acid, the reaction was relatively slow, even at 160 F. When flour at normal moisture was modified with 12N solution, the rate was retarded. Data are presented on starches and other cereal flours that illustrate the influence of protein content and type on the reaction rate and on product characteristics. The cost of producing these acid-modified flours is estimated at 1.9 cents per lb. above the price of the raw material.