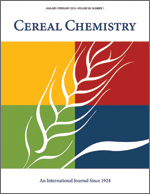 Cereal Chem 41:491 - 501. | VIEW ARTICLE

Polarographic Behavior of Gluten and Thiosulfogluten.

H. Matsumoto and T. Kuninori. Copyright 1964 by the American Association of Cereal Chemists, Inc.

The protein wave of gluten and thiosulfogluten--gluten in which a part of the disulfide bonds was cleaved to thiosulfo groups (SSO3-) by sulfite--was estimated polarographically. The behavior of those protein waves was similar to those of other proteins in the experiment with various concentrations of proteins, ammonia, cobaltic ion, and cobaltous ion. The protein waves shown by thiosulfogluten were presumed to originate from the thiosulfo group, as the behavior in alkali and during sulfitolysis differed from that of gluten. The polarographic method was also found effective for the study of the thiosulfo group in gluten as well as for the study of disulfide bonds.