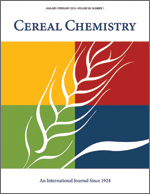 Cereal Chem 41:523 - 532. | VIEW ARTICLE

Study of Barley and Malt Amylases by Immunochemical Methods.

P. Grabar and J. Daussant. Copyright 1964 by the American Association of Cereal Chemists, Inc.

Proteins in saline extracts of barley and malt can be detected by the immunochemical methods of double diffusion and immunoelectrophoretic analysis. A technique of identifying alpha- and beta-amylase among the proteins thus detected has been perfected. Some results of the study of these amylases by immunochemical methods are described. Although immunochemically identical, the beta-amylases of barley and malt are shown to present differences in at least two physicochemical properties. The beta-amylase of barley is less soluble in water and migrates more rapidly at pH 8.2 than beta-amylase of malt. It appears that alpha-amylase does not exist in barley, even in trace amounts or in an inactive form. Calculations of alpha- and beta-amylase mobilities and an evaluation of the diffusion coefficient of alpha-amylase are reported.