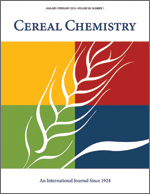 Cereal Chem 41:543 - 547. | VIEW ARTICLE

Carotenoids of Corn and Sorghum. VI. Determination of Xanthophylls and Carotenes in Corn Gluten Fractions.

C. W. Blessin, J. D. Brecher, and R. J. Dimler. Copyright 1964 by the American Association of Cereal Chemists, Inc.

Variation in carotenoid content of corn and of gluten fractions creates problems in blending mixed feeds to guaranteed levels of xanthophylls and carotenes. Samples of hybrid yellow dent corn, typical of those processed by wet-millers, showed a three- to fourfold variation in xanthophylls (10-30 p.p.m.) and carotenes (1-4 p.p.m.). Variation in total carotenoid content (247-379 p.p.m.) of two commercial samples of corn gluten containing 60 to 70% protein was of the same magnitude as the differences in carotenoid level (19- 30 p.p.m.) of the whole corn used for processing. The total carotenoid content of gluten feed (21% protein) varied from 14 to 34 p.p.m. and that of gluten meal (41% protein) from 65 to 253 p.p.m. Presumably, the carotenoid content of the feed and meal depends to a considerable degree upon the type and amounts of materials blended during processing. The gluten fractions contained larger quantities of noncarotenoid pigments than the whole corns. Saponification of the extracts before chromatography reduced total carotenoid content in several samples. The apparent decrease may be due to conversion of hexane-soluble alkylated flavonoid compounds to water-soluble types during saponification.