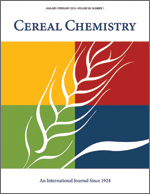 Cereal Chem 42:255 - 262. | VIEW ARTICLE

Classification of Puff-Pastry Fats and Margarines Based on Dough Firmness.

J. Lagendijk and J. van Dalfsen. Copyright 1965 by the American Association of Cereal Chemists, Inc.

A special apparatus, the firmness meter, has been designed for measuring the degree of stiffening and softening of puff-pastry doughs on working-up. These properties can be expressed in numerical values. This apparatus is described and some experiments and results are discussed. On the basis of the measured results obtained, it is possible to make a distinction between the properties of various puff-pastry fats and margarines.