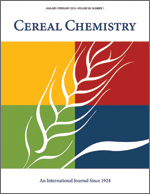 Cereal Chem 42:323 - 330. | VIEW ARTICLE

The Effect of Various Glycerides on the Baking Properties of Starch Doughs.

G. R. Jackson and B. W. Landfried. Copyright 1965 by the American Association of Cereal Chemists, Inc.

The addition of small quantities (0.1%) of saturated monoglycerides and monodiglycerides to starch doughs made with and without shortening produced gross improvements in the crumb structure of the resultant bread. A corresponding series of compounds of the unsaturated type did not exhibit improving effects. At elevated dough temperatures (102 F) the unsaturated materials caused failure of doughs during proofing and baking. At 1% usage level, triglycerides which are plastic within the temperature range of mixing and fermentation improved the volume of starch breads but failed to improve grain.