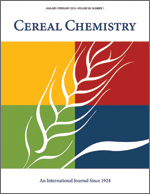 Cereal Chem 43:1 - 13. | VIEW ARTICLE

Solubilization and Recovery of Protein from Wheat Millfeeds.

D. A. Fellers, V. Sinkey, A. D. Shepherd, and J. W. Pence. Copyright 1966 by the American Association of Cereal Chemists, Inc.

Various extractants and conditions were evaluated for effectiveness in solubilizing the protein of common millfeed fractions of wheat (coarse bran, fine bran, and shorts). Soaking with alkali for 1 hr. at pH 10.5, 23 C., and with a solvent:millfeed ratio of 10:1 was very effective. Grinding all of the fractions increased significantly the solubilization of protein by alkali. Much of the solubilized protein could be recovered from alkaline extracts by precipitation at pH 5.5. A little more could be recovered by heating the supernatant liquor. Of the total nitrogen in fine bran, 23.5% (11.8% dialyzable, 11.7% nondialyzable) could not be precipitated isoelectrically (pH 5.5) from alkaline extracts (pH 6.5-12.5). Freeze-drying the precipitate from fine bran yielded a brown material containing 69% protein, 21% fat, 3% ash, and 7% carbohydrate. Drying of this precipitate with ethanol gave a light-grayish product, 87% protein (dry basis). A single assay showed that the protein extracted from fine bran with alkali (pH 10.5) had a protein efficiency ratio of 2.0 compared with 2.2 for untreated fine bran.