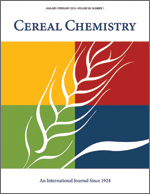 Cereal Chem 43:28 - 34. | VIEW ARTICLE

Enzymatic Hydrolysis of Dispersed Wheat Gluten.

S. C. Verma and A. G. McCalla. Copyright 1966 by the American Association of Cereal Chemists, Inc.

Gluten from hard red spring wheat dispersed in 8% sodium salicylate with sodium bisulfite added (pH 6.8) was partially digested by papain and by an enzyme in a commercial enzyme preparation. Similar gluten dispersed in aluminum lactate (pH 3.05) was partially digested by pepsin and by a second enzyme in the commercial preparation. There were qualitative, and probably quantitative, differences in the action of the enzymes. Precipitates formed in all digests of sodium salicylate dispersions. The amino acid distribution of these precipitates was quite different from that of whole gluten, there being much higher proportions of lysine, arginine, aspartic acid, and alanine and much lower proportions of glutamic acid and proline in the precipitates.