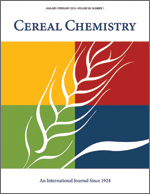 Cereal Chem 43:35 - 42. | VIEW ARTICLE

Determination of Some Components in Corn Syrup by Gas-Liquid Chromatography of the Trimethylsilyl Derivatives.

K. M. Brobst and C. E. Lott, Jr. Copyright 1966 by the American Association of Cereal Chemists, Inc.

Investigation of the separation of the trimethylsilyl derivatives of carbohydrates by gas-liquid chromatography showed that this technique could be used to determine the major mono- through tetrasaccharide components of corn syrup. An improved method of derivatization was developed, applicable in the presence of up to 40 mg. water. Separations were made with SE-52 and SE-30 silicone stationary phases and with both multiple isothermal, and linear temperature-programmed operations. Component data for glucose, maltose, maltitriose, and maltotetraose, in 43 Dextrose Equivalent corn syrup, showed a relative standard deviation of 1.7 to 3.4%. Further application to the separation and determination of sucrose in the presence of corn syrup solids also was described.