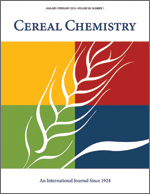 Cereal Chem 43:94 - 103. | VIEW ARTICLE

Effect of Spring Settings and Absorption on Mixograms for Measuring Dough Characteristics.

W. C. Shuey and K. A. Gills. Copyright 1966 by the American Association of Cereal Chemists, Inc.

Thirty-one different wheat varieties, ranging in protein content from 13.8 to 15.6%, averaging 14.6%, were tested on a mixograph at spring settings of 6, 8, 10, and 12 with a corresponding change in absorption of 80.0, 73.3, 66.7, and 60.0%, respectively. Some physical characteristics of the mixograph were determined. Three readings of the mixograms - time to peak, height of curve, and the angle of breakdown - were determined and correlated with baking characteristics. The results showed that flours respond differently to changes made on the mixograph. These changes suggest that flours from wide genetic backgrounds fall into two or possibly three broad classifications.