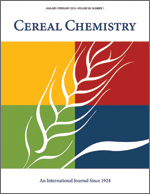 Cereal Chem 43:127 - 135. | VIEW ARTICLE

New Starches, I. The Unusual Properties of the Starch from Saponaria vaccaria.

K. J. Goering and D. L. Brelsford. Copyright 1966 by the American Association of Cereal Chemists, Inc.

Starch has been produced from Saponaria vaccaria by a modified wet-milling technique. This starch is made up of extremely small granules of uniform size measuring 0.5 to 1.6 micron. Although its pasting characteristics resemble those of potato starch, the swelling power and solubility indicate that the granule has both strong and extensive bonding forces. Brabender curves indicate that very little retrogradation of the linear fraction takes place on cooling. This is verified by freeze-thaw data. Its extreme solubility in dimethyl sulfoxide suggests that cow-cockle starch has a very heterogeneous structure in the granule. This starch does not seem to have properties which follow those of any common starch.