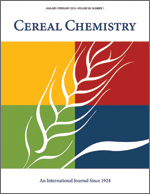 Cereal Chem 43:313 - 319. | VIEW ARTICLE

A Rapid Method to Determine Percent Fermentables.

Y. S. Kim. Copyright 1966 by the American Association of Cereal Chemists, Inc.

A new method to determine percent fermentables (% FE) of high-fermentable corn syrup was investigated. In this procedure a colorimetric method was used to estimate unfermentable carbohydrate residues. Optimum conditions for complete fermentation of 10% sugar solutions were established, and under these conditions the percent fermentability of various sugars was determined. The percent fermentable equivalent values (% FE = fermentable sugars as a percentage of total sugars) thus obtained were compared with the method of the Corn Industries Research Foundation. The two methods agreed within +/- 1% FE values.