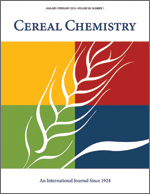 Cereal Chem 43:325 - 335. | VIEW ARTICLE

Improved Chromatographic Separation of Gliadin Proteins on Sulfoethyl Cellulose.

F. R. Huebner and J. S. Wall. Copyright 1966 by the American Association of Cereal Chemists, Inc.

A new procedure of ion-exchange chromatography has been developed that gives better resolution of individual proteins from Ponca wheat gliadin as measured by starch-gel electrophoresis of the separated fractions. The system is based on a 2.8 x 50-cm. column of sulfoethyl cellulose, a strong cation exchanger effective at low pH. The pH 3.6 buffer consisting of 0.03M acetic acid and 0.01M HCl, used for application and elution of protein, contained 8M urea. The ionic strength of the eluting buffer was gradually increased by an apparatus producing a variable gradient from 0 to 0.15M sodium chloride. These optimum conditions were arrived at after tests of other ion-exchange materials, solvents, pH values, and ionic gradients. The final method yielded some pure individual gliadin proteins directly and also others which required minimum repurification.