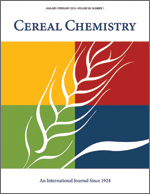 Cereal Chem 43:336 - 341. | VIEW ARTICLE

A Colorimetric Method for the Determination of Alpha-Amylase Activity (ICC Method).

H. Perten. Copyright 1966 by the American Association of Cereal Chemists, Inc.

A colorimetric method for the determination of alpha-amylase activity in cereals and cereal products as well as in fungal and bacterial preparations is described. The alpha-amylase activity, determined at 30 C., is expressed as a function of alpha-amylase concentration and of the velocity constant for the hydrolytic degradation of limit dextrin. The results are convertible to the well-known SKB-units and H-units.