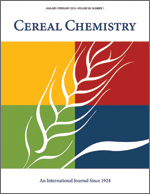 Cereal Chem 43:357 - 361. | VIEW ARTICLE

Alpha-Keto Acids in Bread Pre-Ferments.

E. W. Cole, V. Helmke, and J. W. Pence. Copyright 1966 by the American Association of Cereal Chemists, Inc.

Eight different alpha-keto acids were detected in cell-free pre-fermented broths similar to those used in commercial bread-baking. Three of the acids, alpha-ketoglutaric, pyruvic, and alpha-ketoisovaleric, occurred in amounts large enough to measure quantitatively. The concentrations of these three acids in the pre-ferment increased with time of incubation. At the end of 6 hr., the accumulation of pyruvic acid was largest. The remaining five keto acids occurred in such small amounts that paper chromatography could not easily resolve their 2,4-dinitrophenylhydrazones.