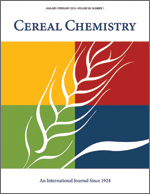 Cereal Chem 43:362 - 371. | VIEW ARTICLE

Mechanism of Starch Depolymerization with Chlorine.

R. L. Whistler, T. W. Mittag, and T. R. Ingle. Copyright 1966 by the American Association of Cereal Chemists, Inc.

It is proposed that in the chlorinolysis of glycosidic bonds, cleavage occurs between carbon C1 and the glycosidic oxygen with elimination of the aglycone as the hypochlorite ester, which may undergo hydrolysis or dehydrochlorination to a carbonyl function; and the formation of a glycosyl chloride which solvolyses and also forms new glycosidic bonds. Chlorinolysis of methyl alpha-D-glycopyranoside and maltose gives rise to small amounts of levoglucosan, and hydrolysis of the reduction products of the chlorinolyzed amylose gives D-galactose.