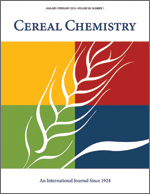 Cereal Chem 43:555 - 562. | VIEW ARTICLE

Transferase Activity in Malt Amylase Preparations.

D. French and M. Abdullah. Copyright 1966 by the American Association of Cereal Chemists, Inc.

Barley malt contains a 1-4:1-4 transferase which accompanies alpha-amylase during classic purification steps (i.e., heat-treatment and glycogen precipitation). Previous results on the action and specificity of malt alpha-amylase must be re-evaluated as possibly arising from the combined action of alpha-amylase and transferase. Effects of transferase are most important on G6 and lower oligosaccharides upon which pure malt alpha-amylase itself acts exceedingly slowly if at all.