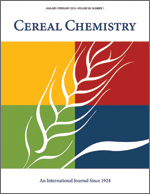 Cereal Chem 43:627 - 636. | VIEW ARTICLE

Studies on the Flavor Fraction of Bread Crust Adsorbed by Cation Exchange Resin.

T. Morimoto and J. A. Johnson. Copyright 1966 by the American Association of Cereal Chemists, Inc.

A distinct bread-crust or soda-cracker aroma was produced by the reaction of proline and glucose. A similar aroma component was found in bread crust. The aroma components from both the reaction of proline and glucose and from bread crust were adsorbed on Amberlite IR-120 or CG-120 and eluted with 0.2N sodium hydroxide. These compounds showed a violet color reaction with ninhydrin, suggesting the presence of nitrogen. They were stable under acidic conditions against heating, and volatile under alkaline conditions. They showed an ultraviolet absorption maximum at 280 to 290 millimicrons, with a slight difference between compounds from the proline-glucose reaction and those from the bread crust. By the use of gas chromatography, an aroma component was isolated from the reaction products of proline and glucose.