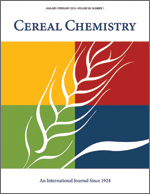 Cereal Chem 43:682 - 688. | VIEW ARTICLE

The Weakening Action of Thioctic Acid in Unyeasted and Yeasted Doughs.

L. K. Dahle and R. S. Hinz. Copyright 1966 by the American Association of Cereal Chemists, Inc.

Reduced thioctic acid added to flour in various quantities, followed by mixing on the farinograph, resulted in weakened mixing behavior - an effect not obtained with cyclic thioctic acid. Addition of cyclic thioctic acid to yeasted systems, however, gave the effect of reduced thioctic acid, thus demonstrating the potency of the thioctic-reducing enzyme system known to be present in yeast. Baking data revealed flour to be sensitive to exogenous thioctic acid levels as low as 0.025 micromole per g. of flour. In unyeasted systems, dithiothreitol produced effects similar to those of reduced thioctic acid. Cyclic dithiothreitol, however, was inactive in yeasted systems, thus demonstrating the enzyme specificity of the yeast enzymes. Incubation of flour slurries containing reduced thioctic acid resulted in increased amounts of water-soluble and acid- soluble proteins.