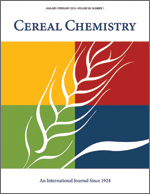 Cereal Chem 43:695 - 705. | VIEW ARTICLE

Studies with Radioactive Tracers. IX. The Fate of Sucrose-14C During Breadmaking.

C. C. Lee and C.-H. Chen. Copyright 1966 by the American Association of Cereal Chemists, Inc.

Bread was made with 5.00 g. of sucrose-14C per 100 g. flour as one of the ingredients in the baking formulas. About 42% of the activity remained in the finished bread and nearly 20% of the activity was recovered in the oven vapor condensate. Most of the residual activity in the crumb and crust consisted of neutral compounds, but some active basic and acidic components, which may include products from the early stages of the Maillard type of browning reaction, were also found. Paper-chromatographic studies of the neutral fractions from 70% alcohol extracts of crumb and crust showed the presence of glucose and fructose besides some unidentified components, the ratio of active glucose to fructose being approximately 1:3.5. Nearly all of the activity in the oven vapor condensate was found in the alcoholic fraction. The carbonyl and acidic fractions each contained only 0.5% or less of the activity in the condensate. Paper chromatograms of the 2,4-dinitrophenylhydrazones of the carbonyl compounds in the condensate showed that only 5-hydroxymethylfurfural was appreciably radioactive.