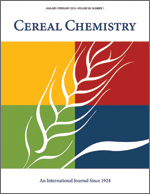 Cereal Chem 44:105 - 117. | VIEW ARTICLE
Heterogeneous Reaction of Granular Starch with Hydrogen Chloride. I. Microscopic Observations.

T. R. Thomson and D. Petite. Copyright 1967 by the American Association of Cereal Chemists, Inc.

A heterogeneous reaction between anhydrous granular starch and hydrogen chloride gas takes place at 70 C. The reaction is characterized by an induction period of 2 to 17 hr., depending on the starch used and the HCl pressure, after which there is a sudden evolution of water. The color of the starch darkens during the induction period and turns black soon thereafter. Some degradation occurs during this period. Microscopic and hydration studies on the products indicate that disorganization, with attendant cold-water solubility, increases to a maximum during the induction period. A sudden relaxation of the granule seems to occur at the end of the induction period, allowing dehydration to begin. The subsequent products become insoluble again, apparently through some sort of cross-linking, and the color becomes completely and permanently black. Motion-picture studies of the hydration behavior of the induction period products revealed some of the granular aspects of the reaction.