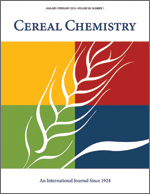 Cereal Chem 44:129 - 142. | VIEW ARTICLE
Study of Phytase and Fluoride Effects in Germinating Corn Seeds.

C. W. Chang. Copyright 1967 by the American Association of Cereal Chemists, Inc.

Properties of phytase were studied, with endosperm-scutellar tissue of corn seedlings 4 days old. The corn phytase lacked a strict substrate specificity. Optimum incubation temperature of the enzyme was 50 C., optimum pH was 5.6, and the Michaelis constant (Km) was 0.9 x 10(-4) moles per liter. The highest total enzyme activity was located in the fraction at 1,700 x g; the supernatant at 20,000 x g was the location of the highest specific enzyme activity. The enzyme survived high temperature, was activated by calcium chloride, and was inhibited by sodium fluoride. Fluoride prevented phytin breakdown and inhibited growth during corn germination.