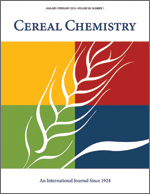 Cereal Chem 44:160 - 169. | VIEW ARTICLE
Protein Composition of Dent, Waxy, and High-Amylose Corns.

J. A. Boundy, J. H. Woychik, R. J. Dimler, and J. S. Wall. Copyright 1967 by the American Association of Cereal Chemists, Inc.

Protein content and composition were examined in three types of corn, alike in hereditary factors except for ae and wx genes which determine the amylose and amylopectin contents of the starches. Globulin, zein, and glutelin proteins, prepared by selective extractions from dent, waxy, and high-amylose corns, were subjected to gel electrophoresis and amino acid analysis to elucidate possible variations in proteins. No differences were observed in the electrophoretic patterns of the proteins from the different genotypes. Although the globulins and zeins from the different strains were similar in amino acid content, the glutelin fractions differed significantly. The starch-gel electrophoretic patterns and amino acid compositions of reduced globulins, zeins, and glutelins from dent corn were also compared. Reduced glutelin electrophoretic components have counterparts in reduced zein and reduced globulins; also, glutelin amino acid composition is intermediate between that of the other two proteins.