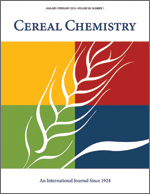 Cereal Chem 44:170 - 182. | VIEW ARTICLE
The Incorporation of Cysteine-35S, Cystine-35S, and N-Ethylmaleimide-14C into Doughs Made from Wheat Flour.

C. M. Mauritzen. Copyright 1967 by the American Association of Cereal Chemists, Inc.

The incorporation of cysteine-35S, cystine-35S, and N-ethylmaleimide-14C into gluten and the soluble proteins of doughs made from wheat flour has been studied. The specific activities of the proteins have been compared. The gluten complex has been fractionated by ion-exchange chromatography and the amino acid composition and specific activities of the gluten fractions reported. The bearing of these results on the theory of disulfide-sulfhydryl interchange in dough is discussed.