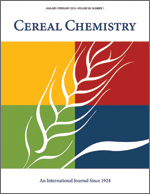 Cereal Chem 44:204 - 210. | VIEW ARTICLE
Effect of Heating on Brown Rice Composition and Quality.

T. Iwasaki and T. Tani. Copyright 1967 by the American Association of Cereal Chemists, Inc.

The effects of heating temperature, of moisture content of rice to be heated, and of heating time on many properties of rice were studied in three experiments. Enzyme activity, reducing sugar content, and acidity of water-extract changed during heating, and were good indicators for judging changes in quality of rice. Enzyme activities went down, reducing sugars increased, and acidity of water-extract decreased. Viability of rice (14.3% moisture) was well preserved even after heating at 60 C. for 1 hr., but was destroyed by heating at 70 C. for 1 hr. Cooking quality tests of heated rices confirmed that heating has an effect similar to that of aging on rice texture, but no effect on fat acidity or on gelatinization temperature of rice flour. High- moisture rices showed less resistance to heating than low-moisture rices. Heating temperature was a greater factor than heating time, and only the increase in reducing sugars was much influenced by heating time.