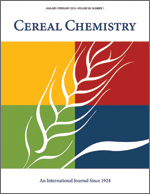 Cereal Chem 44:238 - 244. | VIEW ARTICLE
Recent Investigations on Wheat Flour Pentosans.

H. Neukom, L. Providoli, H. Gremli, and P. A. Hui. Copyright 1967 by the American Association of Cereal Chemists, Inc.

A purified preparation of arabinosidase has been made and shown to liberate arabinose from an arabinoxylan from wheat flour. The removal of arabinose is followed by the precipitation of an insoluble xylan. The degradation of a glycoprotein from wheat flour with Pronase has been investigated. Two polysaccharides with different sugar compositions are formed, indicating that they are linked by a polypeptide bridge. Possible carbohydrate protein linkages are discussed. A caffeic acid ester of starch has been prepared as a model compound for the study of the oxidative gelation of flour pentosans.