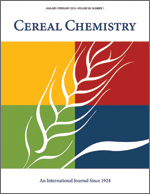 Cereal Chem 44:675 - 679. | VIEW ARTICLE
The Effect of Acid and Salt on the Farinogram and Extensigram of Dough.

K. Tanaka, K. Furukawa, and H. Matsumoto. Copyright 1967 by the American Association of Cereal Chemists, Inc.

In the farinograph test, the consistency of dough was increased by decreasing the pH with acetic acid in the absence of salt (sodium chloride), but contrarily, it tended to decrease from a lower value to the lowest, in the presence of salt. With the extensigraph, the resistance showed a fixed lower level at the pH range 5.9- 4.3 without salt; however, with salt it was increased from a low level to the highest value by decreasing the pH from 5.8 to 4.2. The extensibility showed a marked decrease in both cases with or without salt.