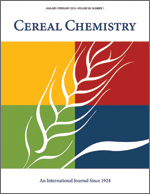 Cereal Chem 45:19 - 27. | VIEW ARTICLE
The Proteolytic Enzymes of Barley and Malt. I. Extraction of Peptidyl Peptide Hydrolases (Endopeptidases) with Activity at pH 5 from Malt.

H. J. G. ten Hoopen. Copyright 1968 by the American Association of Cereal Chemists, Inc.

As a first step in research on the properties of proteolytic enzymes of barley and malt, the extraction from malt of peptidyl peptide hydrolases with activity at pH 5 was studied. The effect of various factors such as pH, temperature, and additions to the extractant was investigated. The extraction of water-soluble proteases is optimal after some minutes at room temperature. Addition of cysteine and nylon 6.6 to the extractant increases the yield. The extraction of proteases soluble in 8% NaCl solution is completed after an extraction time of approximately 30 min. at 40 C., provided the extractant is buffered to pH 5. The proteolytic activity in the extracts is most stable at pH 5.