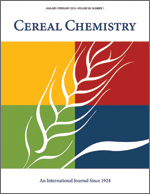 Cereal Chem 45:28 - 36. | VIEW ARTICLE
The Relation of a "Globulin" Component of Wheat Flour to Purothionin.

C. C. Nimmo, M. T. O'Sullivan, and J. E. Bernardin. Copyright 1968 by the American Association of Cereal Chemists, Inc.

The most rapidly migrating protein component of wheat flour is apparent on gel electrophoresis in aluminum lactate buffer, pH 3.1, as a pair of bands having the same position as purothionin, the low- molecular-weight, high-sulfur protein first reported crystalline in 1942 by Balls, Hale, and Harris. Classified among the globulins in previous reports, this component has been separated from curde globulins by preparative electrophoresis and gel filtration (Sephadex G-50, 0.05M acetic acid, 0.01M KC1) to yield a water-soluable material ("globulin") resembling purothionin in elution volume, UV absorption spectrum, and amino acid composition. Both purothionin and the "globulin" have unusually low fluorescence, and purothionin apparently lacks tryptophan. The "globulin" which resembles purothionin apparently is produced by exposure of a globulin component to low pH, as in aluminum lactate gel electrophoresis, and does not exist as an individual component in the crude globulins.