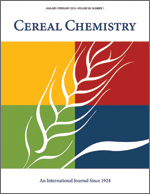 Cereal Chem 45:80 - 87. | VIEW ARTICLE
Some Properties of Dough and Gluten in D2O.

R. Tkachuk and I. Hlynka. Copyright 1968 by the American Association of Cereal Chemists, Inc.

Extensigraph, farinograph, mixing and baking properties of dough in D2O are described and compared with properties of dough in H2O. Farinograph mixing behavior of D2O gluten was also examined. The results showed that a stronger dough-and-gluten is formed in D2O than in H2O. This behavior indicates that numerous weak hydrogen bonds play a very significant role in determining the physical structure and behavior of dough and gluten.