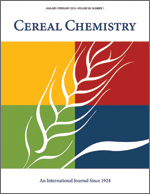 Cereal Chem 45:291 - 303. | VIEW ARTICLE
Corn Dry-Milling: Stress Crack Formation in Tempering of Low-Moisture Corn, and Effect on Degerminator Performance.

O. L. Brekke. Copyright 1968 by the American Association of Cereal Chemists, Inc.

Corn of 15% moisture or less often fails to give the desired improvement when tempered under typical conditions used in the dry-milling process. Such corn develops stress cracks during tempering at room temperature. Corn kernels having stress cracks break readily and do not respond properly to degermination. In laboratory studies, stress crack formation varied with initial moisture content of the corn (yellow dent hybrid) and with moisture level, time, and temperature during tempering. In a 2-hr. temper with 8% moisture added, kernels having stress cracks increased from between 0 and 5% to more than 60% as the initial moisture content decreased from 20 to 13.5%. For periods beyond 1 hr. for tempering corn at 13.5% moisture, formation of stress cracks increased progressively as the moisture level of tempered corn increased from 15 to 24%. Stress crack formation was temperature-sensitive and was essentially eliminated when the corn was pre-heated and tempered at 124 F. In pilot-plant tests, yields were improved by preheating and then tempering the corn at 110-125 F. before milling. Use of a steam-water mixture to simultaneously heat and temper the corn was almost as satisfactory as preheating and tempering the corn in separate steps.