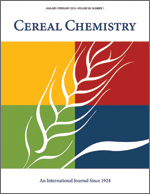 Cereal Chem 45:319 - 328. | VIEW ARTICLE
Modification of the Maes Continuous-Extraction Process for Fractionation of Hard Red Winter Wheat Flour Proteins.

P. J. Mattern, A. Salem, and G. H. Volkmer. Copyright 1968 by the American Association of Cereal Chemists, Inc.

Fractions obtained by the Maes continuous process of extracting proteins from wheat flour mixed with sand in columns were examined by starch-gel electrophoresis and amino acid analyses to ascertain the distribution of components of the fractions. A new solvent sequence was selected after changes were made and results compared. This new solvent sequence consisted of 40% isopropyl alcohol, 2% NaCl, 3.85% lactic acid, and 0.1% potassium hydroxide. The efficiency of protein extraction was improved by grinding flour with pumice. The final procedure was precise and provided 94-99% recovery of protein. The final procedure is recommended for determining protein differences among wheat varieties accurately and rapidly.