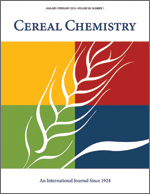 Cereal Chem 45:329 - 338. | VIEW ARTICLE
Function of the Starch Granule in the Formation of Layer Cake Structure.

N. B. Howard, D. H. Hughes, and R. G. K. Strobel. Copyright 1968 by the American Association of Cereal Chemists, Inc.

A layer cake batter formulation in which granular starch is substituted entirely for cake flour has been used to demonstrate the essentiality of intact granular starch in the thermal-setting process of cake baking. However, for the necessary stability of batter emulsion during the early stages of baking, it is also essential that other types of functional ingredients be present: 1) polyvalent cations, 2) soluble proteins, and 3) surface-active lipids. Results are presented to show the effects of various types of granular starch as well as isolated amylose and amylopectin fractions, soluble and insoluble proteins, surface-active lipids, and polyvalent metal ions, on the baking performance of starch cakes.