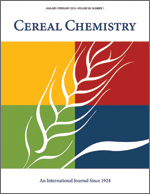 Cereal Chem 45:374 - 377. | VIEW ARTICLE
Nutritive Value of Oat Protein. I. Varietal Differences as Measured by Amino Acid Analysis and Rat Growth Responses.

H. H. Hischke, Jr., G. C. Potter, and W. R. Graham, Jr. Copyright 1968 by the American Association of Cereal Chemists, Inc.

Seven pure varieties of oats grown under similar environmental conditions at Grayslake, Ill., offered an opportunity for comparative studies on protein quality. Samples of oat groats ranging in protein content from 18.1 to 22.2% had highly significant differences in lysine, glutamic acid, and glycine content. The content of the other amino acids detected was uniform in all samples. Rat growth data did not reveal any significant differences in nutritive value of the varieties used.