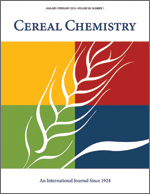 Cereal Chem 45:386 - 393. | VIEW ARTICLE
Association of Synthetic Anionic Polymers with Gluten.

K. Tanaka, K. Furukawa, R. Kuroiwa, and H. Matsumoto. Copyright 1968 by the American Association of Cereal Chemists, Inc.

Synthetic anionic polymers - sodium polyvinyl sulfate (Na-PVS), sodium polyacrylate (Na-PA), and polyvinyl acetate sodium s-sulfonate (Na-PVSSO3) were used in this study. The precipitates, obtained by mixing dispersions of wheat gluten with Na-PVS and Na-PVSSO3 in various proportions, contained approximately a fixed amount of nitrogen regardless of mixing rations. Na-PA showed some results that differed from the others. The farinograms of dough mixed with Na-PVS in equivalent amounts to the total positive charge of dough at pH 4.8 and 4.3 showed a distinct difference from those of the control dough at the same pH levels. However, they were similar to the farinogram of dough at pH 5.8 where the total net charge was negligible. The result obtained with Na-PVSSO3 was identical. Extensigrams of dough mixed with Na-PA, Na-PVS, and Na-PVSSO3 showed a marked increase in resistance and decrease in extensibility in comparison with the control dough. From these results, the association of these polymers with gluten was postulated to be brought about by a saltlike linkage between positive and negative charges.