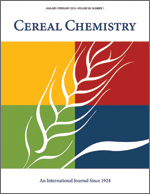 Cereal Chem 45:437 - 444. | VIEW ARTICLE
Amino Acid Composition of Selected High-Protein Wheats.

P. J. Mattern, A. Salem, V. A. Johnson, and J. W. Schmidt. Copyright 1968 by the American Association of Cereal Chemists, Inc.

We evaluated 15 productive high-protein winter wheat lines from the cross Atlass 66 x Comanche and two lines from the cross Atlass 66 x Wichita for amino acid content of their seed. The average protein level of the grain of Comanche-derived high-protein lines was 18.9% higher than that of Comanche in 1965 and 15.4% higher in 1966. The Wichita-derived lines averaged respectively 16.0 and 24.5% more protein in their grain than Wichita in 1965 and 1966. The quantitative relationships of individual amino acids tended to be similar in the parents and their progeny lines. Therefore, the high-protein lines in which the quantitative balance of amino acids was unchanged could be considered nutritionally superior to the lower- protein parent varieties. Some high-protein lines exhibited enough variation in the amount of individual amino acids to suggest that there could be effective selection for improved amino acid balance.