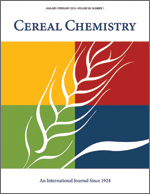 Cereal Chem 45:454 - 463. | VIEW ARTICLE
Chemistry of Lipids in Processing and Technology of Pasta Products.

G. Fabriani, C. Lintas, and G. B. Quaglia. Copyright 1968 by the American Association of Cereal Chemists, Inc.

Investigations were made of changes undergone by lipids in the processing of pasta products from durum wheat semolina. Three varieties of pasta were made from each of four samples of durum wheat, by both extrusion and sheet-forming techniques. Lipid extracts of semolinas and respective pasta products were analyzed for lipids, sterols, and fatty acids, by infrared and gas-chromatographic analyses. Infrared analysis of lipids extracted with acetone indicated quantitative changes in triglyceride, phospholipid, and fatty acid content in extruded and sheet-formed pasta with respect to the corresponding semolina. The IR spectrum of the sterol fraction showed an decrease of absorption at the wave length of beta-sitosterol in pasta, with respect the corresponding semolina. GLC analysis confirmed the quantitative changes noted above in sterol and fatty acid content. These data indicate that, in the transformation of semolina into pasta through technological processing, changes occur which result in a smaller percentage of extracted fats.