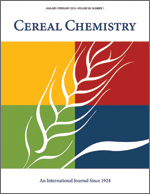 Cereal Chem 45:464 - 468. | VIEW ARTICLE
Some Effects of Solvent Extraction on Cooking Characteristics of Spaghetti.

L. K. Dahle and H. L. Muenchow. Copyright 1968 by the American Association of Cereal Chemists, Inc.

Various amounts of lipid and protein were removed from spaghetti by subjecting strands to various extracting solvents. These samples were cooked for different periods of time in reflux assemblies, and cooking characteristics were compared. The data indicated that removal of lipid or protein resulted in increased amounts of amylose in cooking water. Removal of protein also resulted in increased amounts of water retained in the cooked spaghetti. The cooking quality of spaghetti was impaired more by protein removal than by lipid removal. For comparison, these experiments were performed also on a spaghetti prepared from semolina and a lipoprotein complex derived from semolina.