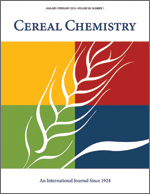 Cereal Chem 46:27 - 34. | VIEW ARTICLE
Baking Characteristics of High-Protein Fractions from Air-Classified Kansas Hard Red Winter Wheats.

M. M. Bean, E. Erman, and D. K. Mecham. Copyright 1969 by the American Association of Cereal Chemists, Inc.

High-protein fractions air-classified from flours of five HRW wheat varieties (Bison, Comanche, Pawnee, Triumph, and Wichita) were added to three base flours (9.4 to 10.6% protein) in amounts to give blends of 12% protein. Bread and dough properties of the blends were significantly influenced by both the high- protein (HP) fraction and base flour. In addition, farinograph stabilities and loaf volumes were significantly affected by the interaction of HP fraction and base flour and by the method of obtaining the HP fraction. The HP fractions contributed only about 20 to 30% of the protein in the blends, but some dough and baking characteristics of their parent flours remained evident. Specifically, the long-mixing properties of Bison and Comanche, mellow properties of Triumph and Wichita, and weak properties of Pawnee parent flours were observed. The HP fraction separated from a flour reground only once gave longer mixing stabilities and larger loaf volumes in blends than did either of the two fractions separated from the corresponding flour reground three times. Quality of protein in HP fractions was probably most responsible for differences in their characteristics, but the behavior of other components, particularly starch and ash, may affect the suitability of a sample for air classification when HP fractions are an important product.