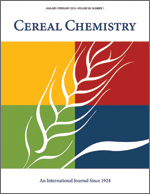 Cereal Chem 46:35 - 43. | VIEW ARTICLE
Baking Characteristics of Low-Protein Fractions from Air-Classified Kansas Hard Red Winter Wheats.

M. M. Bean, E. Erman, and D. K. Mecham. Copyright 1969 by the American Association of Cereal Chemists, Inc.

Low-protein fractions from five Kansas HRW wheat flours, milled from pure-variety lots of Bison, Comanche, Pawnee, Triumph, and Wichita wheats, were tested in cookies and cakes. The wide range of baking performance observed could be attributed mainly to varietal differences in the parent flours. Suitability of the fractions for these uses differed from that found for high-protein fractions from the same parent flours in bread-baking. The Pawnee low-protein fractions were best for cookies and layer cakes, whereas the Bison and Comanche fractions were unsatisfactory even at reasonable protein levels. Triumph fractions performed similarly to Pawnee and Wichita fractions were intermediate. Angelfood cakes made from bleached low-protein fractions collapsed on cooling. Normal performance was obtained by blending approximately 20% of a high-protein fraction with the low-protein fraction. The chlorine dosage required to bring fractions tested as cake flours to the desired pH varied with wheat variety but not with protein or ash content, the usual factors affecting chlorine bleaching requirements.