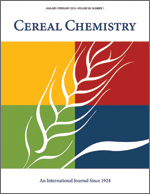 Cereal Chem 46:56 - 62. | VIEW ARTICLE
Colorimetric Determination of Damaged Starch in Flour.

P. C. Williams and K. S. W. Fegol. Copyright 1969 by the American Association of Cereal Chemists, Inc.

A rapid colorimetric test is described for routine determination of damaged starch in wheat flours. The test is based on the color developed on addition of iodine to an extract made by treating flour with a strong solution of sodium sulfate containing 15% formamide and 0.2% sulfosalicylic acid. The results are recorded simply as absorbance, and compare well with damaged-starch estimations made on a series of flours by conventional enzymatic procedures. Precision and reproducibility are equal if not superior to current techniques. A procedure for automation of the colorimetry is described.