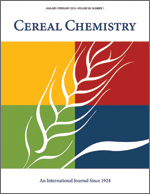 Cereal Chem 46:70 - 73. | VIEW ARTICLE
Prevalence and Detection of Lipolytic Microorganisms in Soybean Seeds.

B. W. Kennedy. Copyright 1969 by the American Association of Cereal Chemists, Inc.

In at least one of several in vitro tests made, virtually all microorganisms isolated from various lots of stored soybean seeds indicated an ability to alter fatty substrates. This ability of a given microorganism could be dramatically affected by any of several factors, including competition from near-by colonies, submersion in the agar medium, and constitution of the growth medium and (or) choice of indicators used for detection of lipolytic activity. The addition of sodium chloride, useful for adjusting osmotic concentration to allow growth of important xerophytic fungi invading soybean seeds at certain moisture- temperature levels, could also change ability of organisms to produce a positive test for lipolysis. It was not possible to "screen" for lipolytic microorganisms by use of any single method.