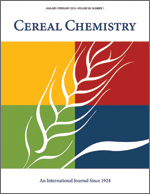 Cereal Chem 46:78 - 84. | VIEW ARTICLE
Quality and Nutritive Value of Pasta Made from Rice, Corn, Soya, and Tapioca Enriched with Fish Protein Concentrate.

W. H. Kwee, V. D. Sidwell, R. C. Wiley, and O. A. Hammerle. Copyright 1969 by the American Association of Cereal Chemists, Inc.

Fish protein concentrate (FPC) supplemented to flours of rice, corn, soya, and tapioca could contribute significantly to the protein intake of the population of developing countries. As pasta may well be considered a universal food, it was chosen as a carrier for FPC. Pasta were evaluated organoleptically and in animal feeding studies, and were also evaluated objectively. Both 10 and 20% FPC additions were efficient in increasing the protein content and nutritional value of pasta. From sensory and objective evaluations, rice pasta appeared to be the most acceptable. Of corn, soya, and tapioca pasta, tapioca seemed most promising for further investigation; it promoted a more attractive color and counteracted grittiness in the FPC, but its texture became too soft during cooking.